Kendall Sinclair & Partners Financial Services is a financial planning company affiliated with Kendall, Sinclair, Cowper, Daigle & Houlden LLP, a local independent accounting firm which has provided professional services in North Bay, Ontario for over 50 years. 
We are a member of Independent Accountants' Financial Group. (IAFG). IAFG consists of a network of independently owned and operated financial planning and accounting firms throughout Ontario. 
Our goal is to be a trusted partner in providing you with comprehensive financial planning, including investment, estate, retirement and income tax planning, in order to reach your personal financial goals. 
In order to achieve this, our financial planning advisors will take the time to help you identify your financial goals and objectives and prepare a comprehensive financial plan tailored to your specific needs. Our role does not end at the implementation of the plan as your financial goals are ever changing. The plan and investments must be monitored and adjusted accordingly on a regular basis. We are also there to provide you with ongoing support and financial expertise. 
Our association with a firm of Chartered Professional Accountants enables us to access their knowledge and expertise for taxation and estate planning matters. This unique relationship provides us with resources to access and share critical client information on a strictly confidential basis, which often is not available to other financial planners.
---
Services We Offer:
Insurance Planning
Insurance can form an integral part of your financial health. Using a needs-based analysis, we help determine if you have a need for Life and/or Disability insurance to help ensure you meet your long-term goals. We offer independent unbiased insurance advice and through our broker services we have access to most insurance providers in the industry.
This advice is integrated with our financial planning services to ensure that you have asset protection and adequate funding of lifestyle expenditures and accruing income tax liabilities and other financial obligations. In addition, in certain situations, insurance policies can provide wealth transfer planning opportunities through tax-sheltered growth.
Retirement Planning
Retirement plans are for clients who are curious or concerned whether they have sufficient financial resources to support their desired retirement lifestyle. Your retirement plan includes a detailed analysis of projected income sources (RSP, RIF, non-registered investments, OAS, CPP, and other income) and projected expenditures. Your retirement plan includes a detailed analysis of the tax implications that your various income sources will have during the accumulation stage and in retirement.
Financial and Estate Planning
Comprehensive financial planning is not just about investments. We incorporate our wealth management strategies to incorporate risk assessment and tax minimization to ensure your retirement and estate planning goals are met. Coordination of outside resources is integral to the success of any comprehensive financial plan. We offer an integrated approach and leverage your relationship with your accounting firm, portfolio managers and lawyer to ensure we utilize their expertise when required. Our written financial plans include a complete analysis of every aspect of your financial situation including our recommendations and an action plan.
---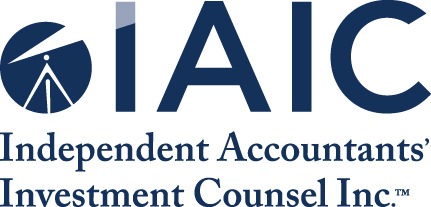 Access to Independent Accountants' Investment Counsel Inc. (IAIC), Portfolio Management
IAIC provides an integrated professional team focused on you. We offer reliable, unbiased and independent research and analysis. Your portfolio is custom designed to achieve your long-term goals and is structured in a tax efficient manner to maximize "after tax" returns. We consider your risk tolerance and time horizon in our investment recommendations and offer no cost, no obligation analysis of your existing investments.
Through a referral arrangement with Independent Accountants' Investment Counsel Inc. (IAIC),  we offer you direct access to a team of Advising Representatives who will tailor an investment management strategy that is specific to your unique circumstances.
Working with your Accountant, IAIC benefits from the longstanding relationship and familiarity your Accountant has with your personal and financial situation. This allows our integrated team of Kendall Sinclair Cowper & Daigle LLP, Chartered Professional Accountants and Kendall Sinclair & Partners Financial Services, along with IAIC's Investment Management team, to provide a comprehensive and customized wealth management service. Moreover, there is continuous interaction between all three disciplines (Financial Planning, Accounting & Investment Management), ensuring portfolios are truly customized and reflect the objectives and risk tolerance of each and every client.

Together with IAIC, our Wealth Management team has the experience and knowledge to help you make informed decisions and we work hard to ensure you can enjoy a well-earned retirement.
Visit the IAIC website at www.iaic.ca and call us today at 705-498-6666 to help you gain confidence and clarity for your future!